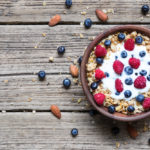 Oat Granola
Ingredients
2 1/2

cups

thick rolled oats

organic

1/2

cup

sesame seeds

1/2

cup

coconut

1/2

cup

sunflower seeds

1/2

cup

chopped almonds

1/2

cup

powdered milk

1/2

cup

whole wheat flour

1/2

cup

wheat germ

1/2

tsp

sea salt

fine-grain

1/2

tsp

cinnamon

1/2

cup

oil

1/2

cup

honey

1/2

cup

water
Instructions
Preheat oven to 275° Fahrenheit and line a large, rimmed baking sheet with parchment paper.

In a large mixing bowl combine oil, honey and water. Add flour (made with the Lee Household Flour Mill) and other dry ingredients and mix until evenly coated. Pour the mixture into the baking sheet and spread it in an even layer.

Bake until lightly golden, stirring halfway. (For extra clumpy granola press the granola down with the spatula after stirring at the halfway point).

Remove the granola when it's lightly golden on top, it will continue to crisp upon cooling.

Let the granola cool completely, about 45 minutes before breaking up.

Add dried or fresh fruit after baked, if desired.