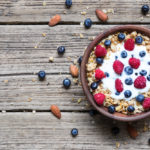 Oat Granola
Ingredients
5

cups

thick rolled oats

organic

1

cup

sesame seeds

1

cup

coconut

1

cup

sunflower seeds

1

cup

chopped almonds

1

cup

powdered milk

1

cup

whole wheat flour

1

cup

wheat germ

1

cup

oil

1

cup

honey

1

cup

water
Instructions
Combine oil, honey and water in mixer. Add flour (made with the Lee Household Flour Mill) and other dry ingredients and beat thoroughly until mixed.

Spread onto 2 cookie sheets.

Bake for 45 minutes at 275 degrees. Stir occasionally while baking.

Add dried or fresh fruit after baked, if desired.