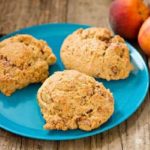 Peach Ginger Oat Healthy Scones
Ingredients
2/3

cup

unsweetened applesauce

3/4

cup

almond milk

1

tbsp

vanilla extract

1

" fresh ginger

grated

3

cups

finely ground oat flour

2

tbsp

baking powder

1/2

cup

coconut palm sugar

or granulated sugar of your choice, plus a little extra for dusting the scones

1/2

tsp

salt

1/2

cup

coconut oil

chilled

2

cups

fresh peaches

chopped
Instructions
1 First, make sure your coconut oil is chilled. If your coconut oil is liquid at room temperature, pour it into a container and put it into the freezer for 15-20 minutes or until solid. Cut into cubes to make it easier to incorporate into the batter later.

2 Preheat your oven to 400ºF. Line two baking sheets with parchment paper, or grease lightly.

3 In a small bowl, mix together applesauce, almond milk, and vanilla. Add grated ginger and combine. Set aside.

4 Whisk together flour (made with the Lee Household Flour Mill), baking powder, sugar, and salt. Add chilled coconut oil. Using a pastry blender or two butter knives, cut the oil into the flour mixture until the texture becomes crumbly. Add wet mixture to dry, and stir gently to combine (in other words: don't over do it!).

5 Scoop batter onto baking sheet using a 1/4 cup measuring cup, leaving about an inch between the scones. Place pieces of peach on top of each scone, and press gently to make sure they're secure. Dust tops of scones lightly with sugar.

6 Bake for 18 minutes. Remove from the oven and allow to cool for five minutes. Move to a wire rack to cool completely - they will be crumbly, so I'd recommend using a spatula. You can also eat these delicious and healthy scones while they are hot.