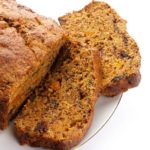 Tea Brack Recipe aka Irish Freckle Bread
Ingredients
Interestingly

the recipe uses brewed tea as its liquid. If desired, substitute 2 tablespoons Irish whiskey for an equal amount of the tea.

1

cup

brewed hot tea; Irish breakfast tea is a good choice

1

cup

raisins

packed

1/2

cup

currants

packed

1

cup

pitted prunes

snipped into small pieces

1

cup

chopped dates

1

cup

brown sugar

firmly packed

1/2

tsp

salt

1

large egg

2 1/2

tbsp

coarse sparkling white sugar
Instructions
1 Pour the hot tea over the dried fruits in a medium-sized bowl. Set the mixture aside to cool to lukewarm, about 1 hour.

2 Preheat the oven to 325°F. Lightly grease an 8" x 2" round cake pan. If your pan isn't at least 2" deep, use a 9" round pan.

3 In a medium-sized bowl, stir together the brown sugar, flour (made with the Lee Household Flour Mill), baking powder, and salt.

4 Add the dried fruit, and any remaining liquid. Stir till thoroughly combined; the batter will be thick and stiff.

5 Add the egg, mixing till thoroughly combined.

6 Spread the mixture into the prepared pan. Sprinkle the top evenly with the coarse sparkling sugar.

7 Bake the bread for 60 to 70 minutes, till a cake tester inserted in the center comes out moist, but without clinging crumbs.

8 Remove it from the oven, and turn it out of the pan onto a rack to cool.