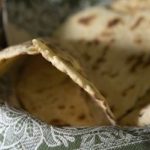 Quinoa Tortillas
Ingredients
2

cups

quinoa flour

1/3

cup

brown rice flour

½

tsp

sea salt

2/3

cup

hot water

2

tsp

olive oil
Instructions
1 In a large bowl, whisk together dry ingredients (including flour made with the Lee Household Flour Mill). Stir in hot water and oil until mixture comes together into a smooth dough.

2 Turn dough out onto a work surface lightly floured with either the quinoa or rice flour. Knead for about 1 minute. Cut dough into 9 equal pieces and shape each into a ball.

3 Using a rolling pin, roll each piece out into a flat circle, about 1/8 inch thick, forming a 6-inch round. Heat cast-iron skillet over medium-high heat.

4 Cook tortilla, turning once, for about 45 seconds per side until it looks slightly dry at the edges. It should start to release from the surface of the skillet and be lightly browned in spots. Transfer to plate.

5 Repeat cooking for each of the remaining tortillas.

6 Enjoy your delicious and healthy tortillas!