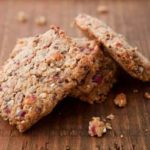 Sprouted Buckwheat Power Snacks
Ingredients
½

cup

raw almonds

½

tsp

vanilla powder

½

cup

chopped dates

2

tbsp

dried cranberries

2

tbsp

dried currants

2

tbsp

hemp seeds

1

tbsp

water

½

cup

Buckwheat groats
Instructions
Process the almonds to a coarse meal in your food processor and be sure not to over-process or they will start to release their oils and turn into nut butter.

Add the vanilla powder, chopped dates, dried cranberries, dried currants and hemp seeds and process until the mixture is well combined and starts to come together. It should look like a thick, wet dough. Depending on how soft your dates are, you may need to add the water and pound to combine. Lastly add the buckwheat and pulse to combine.

Measure roughly a ½ tablespoon of the dough and roll into balls (you can make whatever shape you prefer). Enjoy, refrigerate or freeze the bites in an airtight container for future enjoyment. The bites work best if separated by wax paper.