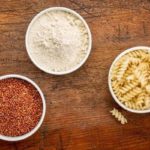 Quinoa Pasta Recipe
Ingredients
2

cups

of quinoa flour

2

tbsp

chia seeds with 6 tbsp hot water

soaked and stirred until a paste forms

2

tsp

olive oil

1/2

cup

warm water
Instructions
1 Make a well with your dry ingredients.

2 Pour the oil, the chia seed mixture and some of the water into the well and start to incorporate some of the flour into the liquid, being careful not to break "the well wall".

3 Gradually add more water as needed to moisten all the flour. It will seem like you don't have enough water, but this dough should not be sticky or soft. You will have to use your hands to knead the dough and have it start to stick together. It will be kind of dry compared to other doughs.

4 Let it rest by wrapping in plastic wrap and sitting it on the counter for about 20 minutes.

5 Divide the dough in quarters and roll out with a rolling pin thin enough to feed into the pasta machine on its largest setting. There will be lots of cracks and uneven edges; that's okay.

6 Take the first rollout and fold over in thirds or half. Turn 90 degrees and feed into the roller again. Do this a few times, adjust the thickness level one level thinner and repeat until you have the desired thickness you want.

7 Once you've got your dough the thickness and texture you want, you can then cut into quinoa noodles, lasagna sheets, stamp into ravioli, etc.

8 Boil for maximum 3 minutes.