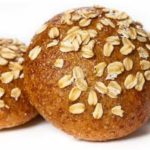 Honey Spelt Roll
Ingredients
2 ¼

tsp

instant yeast

1

cup

warm water

2

tsp

lemon juice

¼

cup

vegetable oil

3

tbsp

honey

1

cup

unbleached all-purpose flour

2

cups

spelt flour

2

tsp

salt

2/3

cup

instant mashed potato flakes

¼

cup

dry milk powder

1

egg

¼

cup

oats

optional
Instructions
Pour the flour (made with the Lee Household Flour Mill) and all ingredients (except for the oats and egg) into the bowl of a stand mixer fitted with a dough hook and mix on medium-low speed until the mixture forms a smooth and elastic dough. The dough should be sticky. Form the dough into a ball and coat it in oil. Cover and let rest until it doubles in bulk (about 90 minutes). Gently knead the air out of the dough and cut it into 16 even pieces.

Roll each piece into a ball and place onto a greased cookie sheet or round pie pan, spacing the rolls about 1 inch apart.

Cover and let rest again at room temperature until the rolls have almost doubled in bulk, about 90 minutes. Preheat oven to 350°F.

If you want to garnish your rolls, whisk together the egg with a splash of cold water and brush the egg wash over the rolls with a pastry brush. Sprinkle oats over top of the rolls.

Bake in preheated oven for 25 minutes, covering loosely with aluminum foil if the tops of the rolls start to brown too quickly. Remove from oven and let cool for a few minutes before serving these delicious honey spelt rolls.