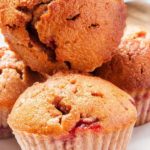 Gluten-Free Raspberry Muffins
Ingredients
1

cup* millet-chia flour

1

cup

yellow corn meal

3

tbsp

corn starch

2

tbsp

natural sugar

2

tsp

baking powder

½

tsp

baking soda

1

cup

unsweetened soymilk

½

cup

plain soy yogurt or applesauce;

¼

cup

water

1

tbsp

lemon juice

6

oz

raspberries

1

tbsp

raw sugar

optional
Instructions
Preheat oven to 375°F and oil a non-stick muffin pan or place 12 silicone muffin cups on a baking sheet.

Combine millet/chia flour, yellow corn meal, corn starch, natural sugar, baking powder and baking soda in a large mixing bowl. In a separate smaller bowl, whisk together unsweetened soymilk, soy yogurt, water and lemon juice until well mixed. Gently stir in raspberries. Mix both dry and wet mixtures together.

Add batter to muffin cups and fill about ¾ full. If desired, sprinkle tops of each muffin with raw sugar. Bake for 25 minutes or until you achieve a clean toothpick when inserted into the muffin. Allow to cool slightly and enjoy these delicious and healthy raspberry muffins!