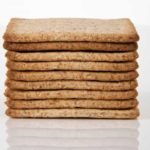 Buckwheat Maple Cracker Recipe
Servings
:
3
dozen crackers
Ingredients
1

cup

oat flour or grind your own using 1/2 cup of oat groats

½

cup

buckwheat flour or grind your own using 1/2 cup of buckwheat groats

¼

tsp

psyllium husk fiber powder

¼

cup

maple syrup

½

tsp

salt

8

tablespoons

salted butter

¼

cup

maple syrup

up to 4 tbsp cold water
Instructions
1 Before you start baking, you will need to grind your flour. If you are using pre-ground flour, you can skip to the second step. To make the oat flour, mill a little over a half cup at a medium coarseness setting in your Lee Household Flour Mill. After milling, set aside 1 cup of the flour to be used in this recipe. To make the buckwheat flour, grind about 1/2 cup at a medium coarseness setting. Afterwards, set aside 1/2 cup of flour to use in the recipe.

2 To make the dough, combine the flours, psyllium husk fiber powder, sugar, and salt in a large bowl. Cut the shortening into tablespoon-sized pieces and lay them on top of the dough. Use a pastry cutter to cut the butter into the dough.

3 When the mixture is crumbly, add the maple syrup and one tablespoon of water. Cut this into the dough. Add water (as needed, one tablespoon at a time), until the dough sticks together (but isn't too sticky).

4 I like to divide the dough into two sections – one to make now, and one to save for a later date. Form each section into a disk, wrap it with plastic wrap, and refrigerate for at least an hour. (The second portion of buckwheat cracker dough will keep in the refrigerator for a few weeks.)

5 When you're ready to bake the crackers, pre-heat the oven to 375 degrees. Use two pieces of parchment to roll the disk of dough flat and then peel back the top layer of parchment. (If pieces of dough fall off or get stuck, simply stick them back.)

6 Use a sharp knife to score the crackers:

7 Bake them at 375 degrees for 10-18 minutes (depending on thickness). Yes, there is a wide time-range for these crackers. The thinner you roll the dough, the faster the crackers will bake and the crunchier they will be. When the edges start to turn a deep brown, they are done.

8 Let them cool and then break the apart.

9 Enjoy these healthy crackers!