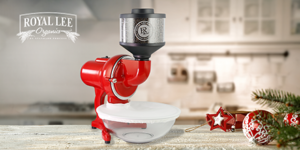 Colder weather is a time of baking — warm loaves of whole grain bread, delicious pie crusts, nutrient-rich cookies and other tasty treats.
We think the best way to make flour for all that baking is with the Lee Household Flour Mill. Simply pour your grain into the hopper, set your desired texture and turn it on. The stone mill efficiently reduces the entire grain kernel into nutritious, fine flour that does not require sifting.
For this year's holidays, replace your usual flour with whole grain nutrition and higher quality flavor for the special price of $799 $749.
When you purchase a mill from our site, simply enter code FLOURSEASON at checkout before December 31, 2018 and you'll receive this special price.
Whether a gift for yourself or someone else, this is an opportunity to provide a beautiful and useful appliance for the baker in your home (or someone you know) for $50 off the normal retail price.
PRODUCT FEATURES
·      **Includes The Essential Home-Ground Flour Book by Sue Becker**
·      **Includes a 2lb bag of Organic Whole Buckwheat**
·      Stationary mill stone disc produces extraordinarily fine flour
·      Adjustable from coarse milling to extra fine milling
·      1 horsepower US-made motor with overheat protection
·      Quieter than most food processors
·      Easy disassembly for fast thorough cleanup
·      Washable milling disc and feed valve assembly
·      4 quart Pyrex collecting bowl (can also be used as a mixing bowl)
·      Sized to fit under standard kitchen cabinets
·      Made entirely in the United States of America
·      Meets UL safety standards